Kia Lease near Brighton MI

Are you in the market for a new ride? We have a ton of great Kia models here at LaFontaine Kia, positioning us well to help you find a fitting option. Not only do we have a diverse inventory—we make it extremely easy to get behind the wheel, with our lease deals.
Learn more about how you can sign a Kia lease near Brighton, Michigan, today!
Kia Models Available for Lease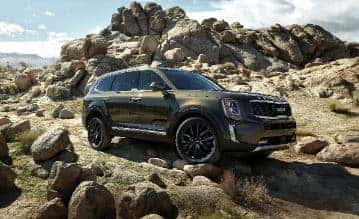 Of course, you will want to start with our available inventory. In browsing online, you will find we have a diverse selection of Kia models, with options spanning a number of classes.
Maybe you're looking for something sizable and spacious, like a Kia SUV or a Kia crossover. Conversely, maybe a Kia sedan or a Kia coupe could be more your speed. Whatever the case may be, we're confident we have a Kia that fits your wants and needs on the local roadways.
We offer a streamlined way to conduct your model research too. On our website, you will find a useful catalog of Kia reviews. Here, you will be able to quickly learn more about the specs and the features offered by each Kia vehicle that we have available.
Should I Lease a Kia?
Once you complete your research and pick out your favorite Kia, you will be ready to decide whether or not leasing is the best option for you. If you are someone who finds themselves intrigued by the prospects of driving a new set of wheels regularly, leasing can be quite appealing. It gives you the short-term financial commitment necessary to browse for new rides every few years.
Leasing can also be an attractive financial alternative, if you do most of your driving locally. Each lease plan usually stipulates some sort of mileage limit. If you stay close to home, you likely won't have to worry about this limit, as your miles will naturally be lower. Even if you do plan on driving farther more frequently, leasing could still be appealing, as you could increase your mileage limit in your contract.
Overall, leasing is an extremely flexible way to get behind the wheel of a new ride.
Sitting Down With Our Finance Team
In order to obtain a lease deal, you will want to sit down with a member of our finance team. Here, we'll work with you to find a lease contract that offers the right term length, ideal monthly payment, and other important conditions that meet your needs.
If you have questions before coming in, reach out to our team over the phone. We'll be happy to lend you a hand.
Learn More About Signing a Kia Lease near Brighton MI
Have you set your sights on a Kia model here on our lot? Are you looking to learn more about leasing and the process involved? Whatever the case may be, our team here at LaFontaine Kia will be happy to help answer any questions you have about signing a Kia lease near Brighton, Michigan.
Contact us today!